The Virtual Library of Bibliographic Heritage (BVPB), managed by the General Subdirectorate for Library Coordination under the umbrella of the Ministry of Education, Culture and Sport, is a digital library offering the public access to a valuable and growing collection of digitised facsimiles of manuscripts, printed books, historical photographs, cartographic material, musical scores, and other material that is housed in memory institutions (archives, libraries and museums) and forms part of Spain's bibliographic heritage.
This initiative allows citizens to freely consult collections, most of which are public but which, due to their characteristics, are kept in special deposits and are difficult to access.
The project is the result of the cooperation of the Ministry of Education, Culture and Sport, the autonomous regions as well as other public and private administrations and institutions. The digitised permanent collections come from libraries, archives and museums, autonomous regions, ministries, town and city councils, athenaeums, foundations, universities, private institutions, royal academies, private individuals, etc. It has been possible to carry out this project thanks to the work and collaboration of all these people and institutions who have carried out selection work and have allowed their collections to be digitised.
Currently (August 2017), the Virtual Library of Bibliographic Heritage offers free and open access to some 24,000 old printed books, 2,500 manuscripts, 5,131 cartographic items (atlases and maps), 85,500 graphic and photographic materials, 212 musical scores, etc.
Se han incorporado al portal de la Biblioteca Virtual del Patrimonio Bibliográfico una importantísima colección procedente de la Casa-Museo Pérez Galdós (Gran Canaria). La colección está compuesta por 73 manuscritos; 98 impresos; 51 galeradas; más de 9300 epistolarios; 133 dibujos a lápiz de la mano del autor; 407 dibujos originales ultilizados en la edición ilustrada de las dos primeras series de los Episodios Nacionales; y 427 fotografías en papel.
22/09/2021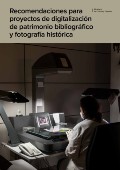 El Consejo de Cooperación Bibliotecaria acaba de publicar sus Recomendaciones para Proyectos de Digitalización de Patrimonio Bibliográfico y Fotografía histórica. Este documento es fruto de la actividad del Grupo de Trabajo de Buenas Prácticas en Digitalización, conformado por expertos en digitalización, fotografía, biblioteca digital y fototeca histórica, de diversas instituciones españolas (Subdirección General de Coordinación Bibliotecaria, Biblioteca Nacional, Universidad Carlos III, C.A. de Galicia, FEDAC, U. de Valencia y U, de Las Palmas de Gran Canaria ).
Este trabajo pretende ser una guía y referencia para aquellas instituciones o empresas que gestionen o ejecuten proyectos de digitalización de fondos patrimoniales en el ámbito español y latinoamericano.