Cervantes in the BVPB
Cervantes in the BVPB. | Cervantes' works | Don Quixotes for children | Biographies | Essays / Reviews | Letters | Tribute-books | Exhibitions catalogs | Serials | Illustrators | Derivative works | Graphic materials | Other Quixotes
On the occasion of the 400 anniversary of the death of Miguel de Cervantes Saavedra (Alcalá de Henares,1547 – Madrid, 1616), the Biblioteca Virtual del Patrimonio Bibliográfico – (BVPB) – (Digital Heritage Virtual Library) is pleased to present this new exhibition of Cervantes' works together with biographic and literary information about the author.
Cervantes in the BVPB
The BVPB's Cervantine Collection has 169 works, many of which are in Spanish. There are also three works in French, one in Catalan, one in Valencian and another one in Bable (a dialect from the Spanish region Asturias).
Regarding the typology, in this collection we will find: Cervantes' works, biographies, essays, adaptations, tribute- books, exhibition catalogs, adaptations for children, letters about Cervantes or El Quixote, theatrical works, poems, journals' thematic issues, articles, photographs, art prints, paintings, cartographic material, literary contests, speeches, publications on The III Centenary of Don Quixote, lectures, a musical score, derivative works, Quixotes from other authors, etc.
Regarding the typology, in this collection we will find: Cervantes' works, biographies, essays, adaptations, homage books, exhibition catalogs, adaptations for children, letters about Cervantes or El Quixote, theatrical works, poems, journals' thematic issues, articles, photographs, art prints, paintings, cartographic material, literary contests, speeches, publications on The III Centenary of Don Quixote, lectures, a musical score, derivative works, Quixotes from other authors, etc.
Because of the amount and relevance of their materials, we'd like to highlight three of these institutions:
1- Instituto de Estudios Cervantinos: public consortium created to promote Cervantine heritage and to encourage people approach the world of language and literary creation. Nowadays, its Cervantine materials and activities have been integrated in El Instituto Universitario de la Investigación en Estudios Medievales y del Siglo de Oro "Miguel de Cervantes", at Alcalá de Henares University.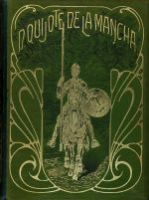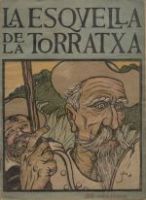 48 works from this institution can be browsed at the BVPB. It's a very assorted collection that includes essays, speeches, tribute- books, Don Quixote editions, special issues of journals. All these works have in common their publication date: 1905. In that year the III Centennial of Don Quixote was celebrated and El Centro de Estudios Cervantinos was very active.
2- Biblioteca Valenciana Digital, which owns great Cervantine materials, 27 of which are also available at the BVPB. Amongst them, a first edition of Don Quixote and two biographies of Cervantes are of particular importance.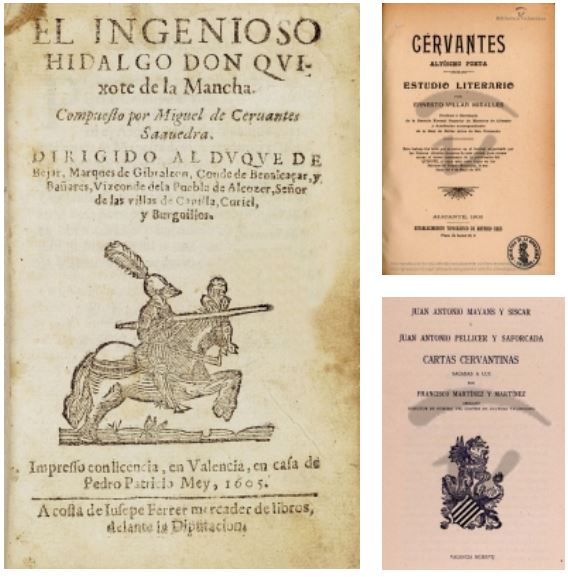 3- Fototeca del Patrimonio Histórico Español, managed by El Instituto del Patrimonio Cultural de España, which houses one of the most complete Patrimonial Photography Collections in our country.
.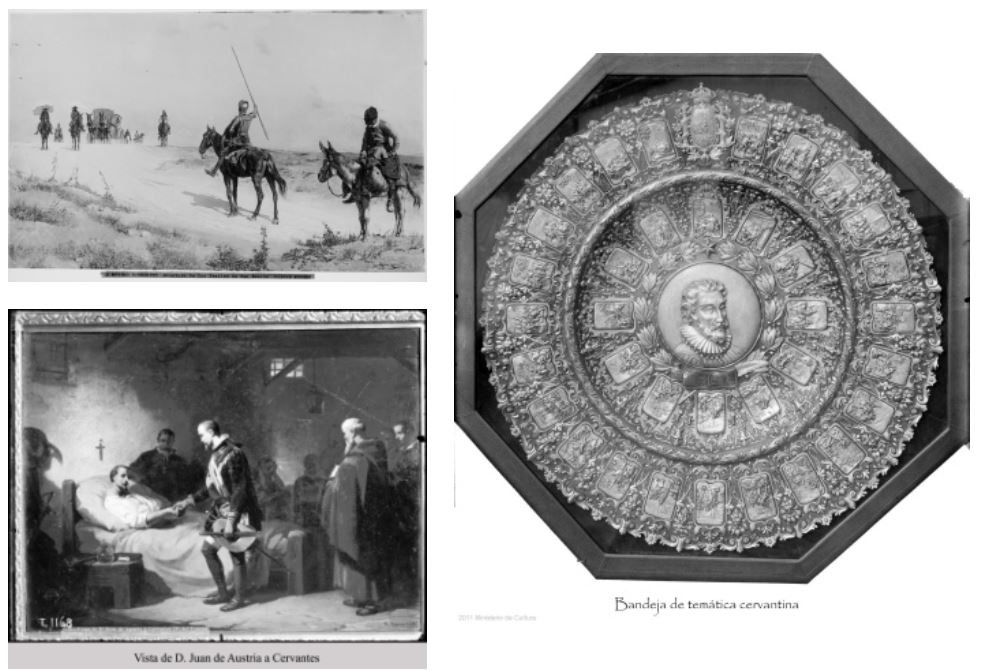 This photographic library materials are available in the BVPB and show artworks (many of them disappeared), monuments and landscapes. 63 Cervantine photographs have been selected from this collection. Most of them are paintings illustrating different scenes from Don Quixote or from the life of Cervantes. The rest of the photographs represent sculptural details, squares dedicated to Cervantes or museum objects.
Cervantes' works
19 Works by Miguel de Cervantes can be browsed at the BVPB. 15 of them are different editions of Don Quixote. Amongst them, a first edition from 1605, and others from 1637, 1674, 1714, 1750, 1863, 1777 and 1905.
Some of these editions correspond to one of the parts of Don Quixote, but there are also some pieces containing both parts. Many of them are illustrated books, and there is also a widely annotated edition.
Special mention should be made of the first Spanish illustrated edition, printed by Roque Rico de Miranda in 1674 or the one known as the first Spanish critical edition, including variants, notes and a glossary by Clemente Cortejón.
Furthermore, two editions of the Novelas ejemplares and one edition of Viaje del Parnaso accompanied by some poems are available at the BVPB.
Don Quixote for children
Apart from two editions of El Quijote by Saturnino Calleja, specially designed to be read by children at schools, the collection has two Don Quixotes adapted for children: Célebres aventuras de Don Quijote 'El caballero de la triste figura': Libro para los niños, and the Eduardo Vicenti's reduced and compiled edition of El Quixote for schools.
Los célebres consejos de D. Quijote á Sancho Panza, puestos al alcance de la memoria de los niños de las Escuelas, is also a book for children. It contains Don Quixote extracts accompanied by excellent illustrations.
Biographies
Apart from the biographies included in some editions of El Quixote or in some studies as Cervantes y El Quijote: El hombre, el libro y la época, by Justo de Lara, in the BVPB Cervantine collection there are two biographies of Cervantes.
One of them written by Cervantes' first biographer Gregorio Mayans y Siscar, and the other one written and published by La sociedad de Patronos, tipógrafos y encuadernadores de Valencia in 1905.
Essays / Reviews
Among the Cervantine materials, articles and diverse thematic studies or trials can be found: La casa de Cervantes in Valladolid, La Música del Lenguaje de El Quijote, La poesía de Cervantes, his medical knowledge, the government of Sancho, Don Quixote's madness, etc.
Some speeches or conferences given on the occasion of the Third Centenary of Don Quixote can also be considered true studies about subjects such as Las mujeres del Quijote, La Pobreza de Cervantes o la Música del Lenguaje del Quijote, etc.
Remarkable as a curiosity Buscando las huellas de Don Quijote is an unprofessional but useful and interesting study written by Infanta Paz de Borbón. It compiles news about several editions and translations published in Europe.
Letters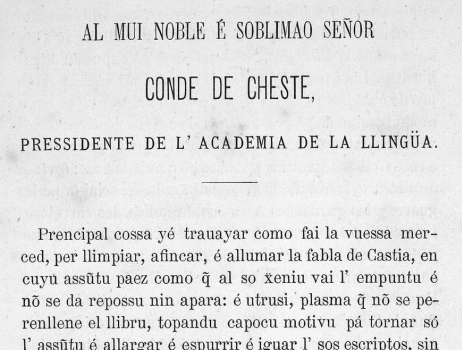 The collection offers two volumes of letters on the Cervantine theme:
a compilation of the correspondence between the literary men Juan Antonio Pellicer y Saforcada y Juan Antonio Mallans y Siscar;

a very curious letter in Bable sent by Don Apolinar Rato de Argüelles to the President of the Real Academia Española. The sender implored the addition of some words in Bable in the 12ª edition of the Dicctionary, as well as the verification of some notes added by academics to El Quijote.
Tribute-books


Many memorial events took place during the Third Centenary of the publication of El Quixote. Most of the times, these events resulted in the publication of new works such as formerly mentioned speeches, conferences, exhibitions catalogs, lyrical contests, literary awards, etc. At that time numerous editions of El Quixote were published, as well as adaptations, essays, articles… dedicated to or based on this Masterpiece of World Literature.
BVPB Cervantine Collection gathers up dozens of such works published in the context of the Third Centenary. Furthermore, the collection contains a tribute book of Cervantine Week from 1920 and a literary contest commemorating the 125 anniversary of the death of Cervantes.
Seven publications about the centenary itself, three articles, a theatrical work, two special journal issues, two conferences, literary contests, speeches, and diverse editions of el Quixote are included in this group.
Exhibition catalogs

We can't forget to mention the catalogs of two exhibitions celebrated in the context of the Third Centenary. El Cátalogo de la Exposición Asturiana de ediciones de "El Quijote" compiles bibliographic information from the editions of El Quixote. The other, which is worth examined, is a catalog of the exhibition of the Quixotic collection from the National Library that includes lots of graphic materials such as cover pages, art prints, paintings, tapestries, sculptures, etc.
Serials
The collection comprises special numbers with very interesting textual and graphic materials. There are two issues in French.
Because of the quality of its illustrations and photographs, special attention should be paid to the special numbers of La Esquella de la Torratxa, Nuevo Mundo, Blanco y Negro and Le petit Journal.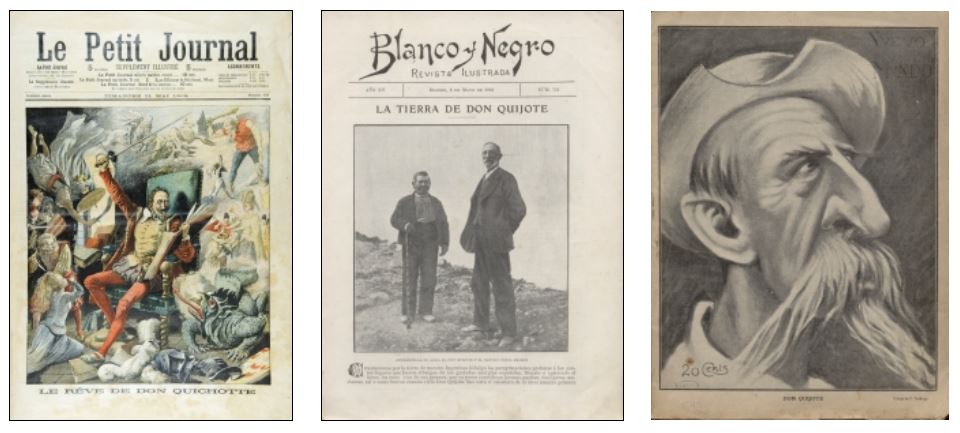 Illustrators
Many of the Quixotes and other Cervantine works in the BVPB are accompanied with excellent illustrations.
High quality art prints accompany the edition of R. L. Cabrera, drawn by J. Jiménez Aranda and other artists, unfortunately; the digital copy is not in color.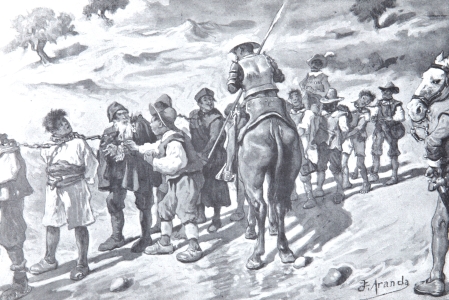 Salvador Tusell's watercolours representing etchings by Gustave Doré, are outstanding, not only for the drawing but also for its colourful.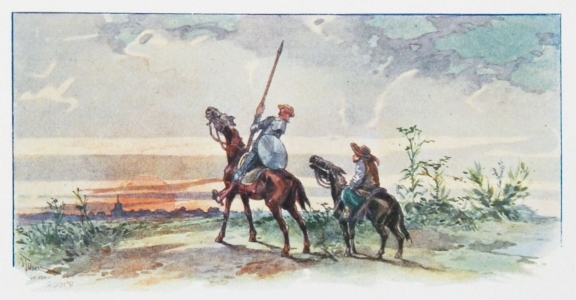 Calcographies by Estebanillo in Tomás Gorchs publication of El Quixote in 1863 are noteworthy.
Because of their antiquity, we have to mention the drawings of the first Spanish illustrated edition (1674).
Derivative works
Two theatrical works – one of them in French -, a book-length "copla" and the adaptations for children formerly related can be browsed at the BVPB.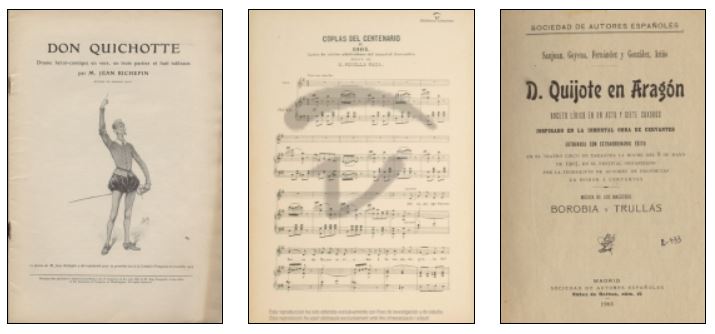 Graphic materials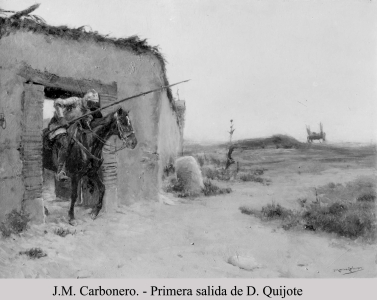 There are many graphic materials in this collection. A large amount of Cervantine photographies from the digitised collection El Instituto del Patrimonio Cultural de España.
Furthermore, there are two albums full of graphic materials: El Album cervantino aragonés de los trabajos literarios y artísticos con que se ha celebrado en Zaragoza y Pedrola el III Centenario de la edición príncipe del Quijote and el Album en homenaje al libro "Don Quijote de la Mancha" en su tercer centenario (sponsored by Benito Pérez Galdós; edited and illustrated by Eduardo Sojo, Demócrito).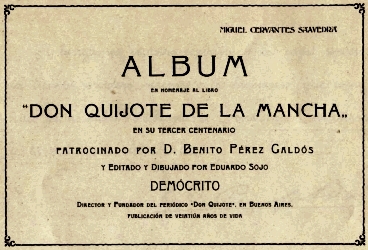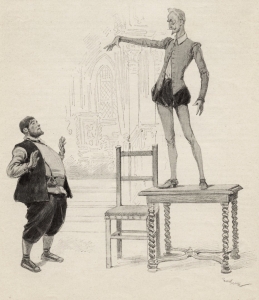 George Scott's illustrations in Jean Richepin's Don Quichotte are also remarkable.
It is also remarkable the Mapa de una porción del Reyno de España que comprehende los parages por donde anduvo Don Quijote, y los sitios de sus aventuras, delineated by Tomás López.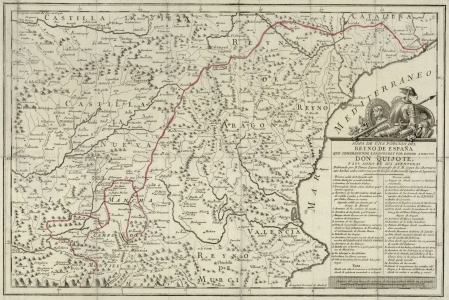 Other Quixotes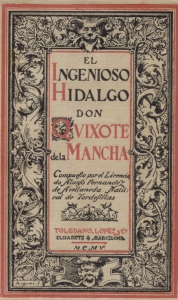 We have already mentioned a couple of works written by other authors and having don Quixote as their main character (Don Quijote en Aragón and Don Quichotte by Jean Richepin)
The most famous Quixote written by other authors is the second part of El Quixote published in 1614 and written by Licenciado Alonso Fernández de Avellaneda, according to the text in the cover page. It is known that the publication of this fake sequel motivated Cervantes to write the second part. The edition in BVPB is from 1905 and is with a foreword and notes by D. Marcelino Menéndez y Pelayo.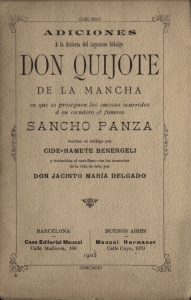 Adiciones a la historia del ingenioso hidalgo Don Quijote de la Mancha en el que se prosiguen los sucesos ocurridos a su escudero el famoso Sancho Panza written in Arabic by Cide-Hamete Benengeli and translated into Spanish by Don Jacinto María Delgado, continues with the adventures of the squire Sancho Panza. This is not the only sequel of El Quixote, but this one is famous for the attribution problems it raised. In fact, Cide-Hamete Benengeli is a character of El Quixote. As a usual literary device, Cervantes maintained that Cide-Hamete Benegeli was the author of the novel and Cervantes just translated it.
Finally, as a curiosity, there is a work titled Quijote de la revolució, ó, Historia de la vida, hechos, aventuras y proezas de Monsieur Le Grand-homme Pamparanuja : héroe político, filósofo moderno, caballero andante y reformador de todo el género humano. Juan Francisco Siñeriz tried to promulgate his political ideas through this work, which is only related to Don Quixote by the title and the inspiration.
Updated text February 7th, 2016
_____________________